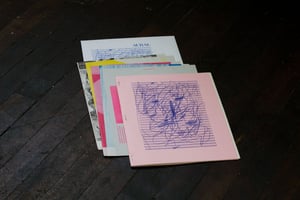 $

22.00 - On Sale
Swill Children is pleased to announce the releases of _ Quarterly issues 5 + 6, entitled Aural Marks.
Issue 5 features writing regarding musical notation from Jason Diamond, Lewis Kopenhafer, Justin Sloane, and Jesse Hlebo. As well as a mixture of appropriated imagery culled from NY and LA public library's.
Issue 6 is a four print series collaboration with NYC based publication Showpaper and features newly commissioned work from Grant Willing, Katja Mater, Arthur Ou, and Borden Capalino.
/////////////////////////////
SCP015
Edition of 500
8.5x11"
Risograph on Colored Paper and Envelope
/
SCP016
Edition of 500
15.5x21.5"
Four Offset Prints on Newsprint
underscorequarterly.com/ showpaper.org